Camps & Retreat Ministries GOLF TOURNAMENT
The 7th annual Camps & Retreat Ministries Golf Tournament will be June 1, 2019 at the beautiful Preserve at Verdae. All funds raised will go towards making the camp experience accessible to everyone.
All proceeds benefit Camps & Retreat Ministries and provide much needed scholarships for kids to attend summer camp. The tournament is held at  The Preserve at Verdae in Greenville, SC. As a player or a sponsor, your participation goes a long way in helping us provide a positive, God honoring summer camp experience for those who might not otherwise be able to afford such an adventure.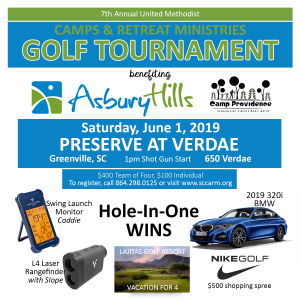 Tournament Sponsor Levels
Tournament Co-Sponsor $1500
featured logo display on tournament banner
four player spots
tee marker sign
program recognition
sponsor gift
Hole-in-One Sponsor $1000
featured logo display on tournament banner
tee marker sign at Par 3 Hole-in-One for grand prize
program recognition
sponsor gift
Tee Box Sponsor $150
tee marker sign
program recognition
sponsor gift
Donation Sponsor
program recognition
dinner recognition
silent auction recognition
Suggested donations – golf equipment, clothing, gift cards, household items, event tickets
Recent Tournament Sponsors & Donors
Agape Hospice
Asbury Hills
Bryan & Haar
Burgess & Lindsay Metcalf
Caldwell Contractors
Candy Friday Farms
Church Mutual Insurance Company
Clemson YLI
DP3 Architects
Eagle Embroidery & Screenprinting
Golfsmith
Green River Adventure
Highland UMC
Hillcrest Dentistry
Kim Welborn
Knight Furniture
Lee Maxwell Roofing
Lloyd Hunter
Morrow Insurance Agency
Nantahala Outdoor Center
Paul & Ruth Ann Frey
Pepsi
Premier Lighting
Preserve at Verdae
Robin Roberts
SC Camps & Retreat Board
SC United Methodist Advocate
St. John's UMC
Tom Jeffries
Unity Baptist Church
US Foods
Vertical Engineering