COVID-19 and SC Camps & Retreat Ministries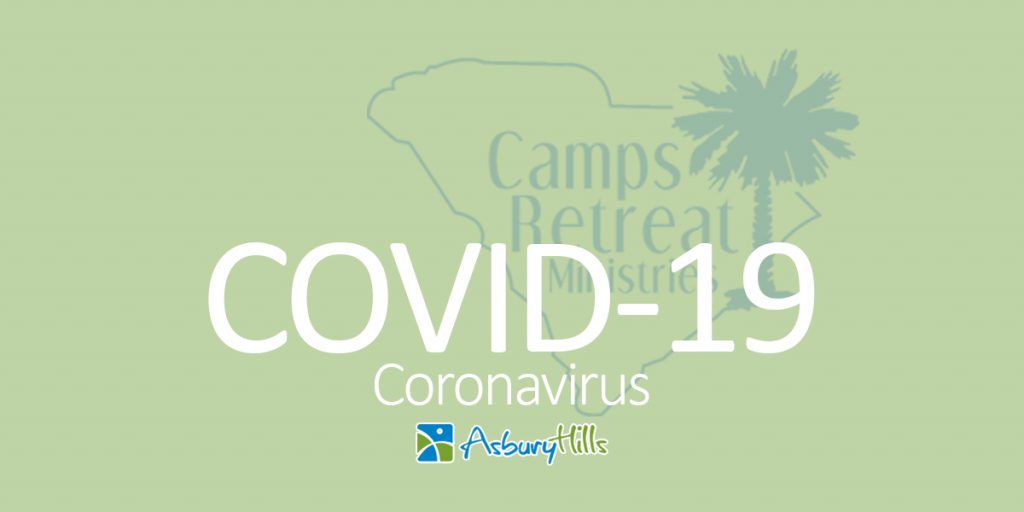 March 27, 2020
State officials have closed all state parks to visitors through April 30th. In efforts to do our part in slowing the spread of COVID-19, our trails at Asbury Hills will be closed to guests through April 30th. Thank you for your prayers and support as we navigate this time of unknown.
March 20, 2020
Great news! As of right now, we are still accepting registrations for Summer 2020 at Asbury Hills.
March 16, 2020
Dear Camp Family,
Thank you for continuing to support our Asbury Hills and SC Camps & Retreat Ministries family. We truly could not do what we do without you. We know you may have questions and concerns regarding the Coronavirus (COVID-19) and how it might affect your upcoming time at Asbury Hills. We are following the guidelines and advice from the Center for Disease Control (CDC), the American Camp Association (ACA), and local authorities to insure that we are doing everything possible to support the efforts to slow and stop the spread of this illness.
As an accredited camp by the ACA, we are already following various requirements in regards to camper and guest safety. All of these requirements and guidelines can be found on the American Camp Association webpage. Please know that we are taking the necessary steps to keep our staff, our guests, and our campers safe.
As of right now, operations at Asbury Hills are still on going. If you have any concerns for your event, please rest assured that we are taking the necessary steps to ensure a safe environment. Please feel welcomed to contact our Greenville office with any remaining questions or concerns by calling 864.298.0125.
This global situation is changing daily so please know we will continue to update our community as information comes available from the CDC and state agencies. In the mean time, more information on the Coronavirus is available at https://cdc.gov/coronavirus.
Blessings,
Arthur Spriggs
Executive Director
South Carolina Camps & Retreat Ministries