COVID-19 and SC Camps & Retreat Ministries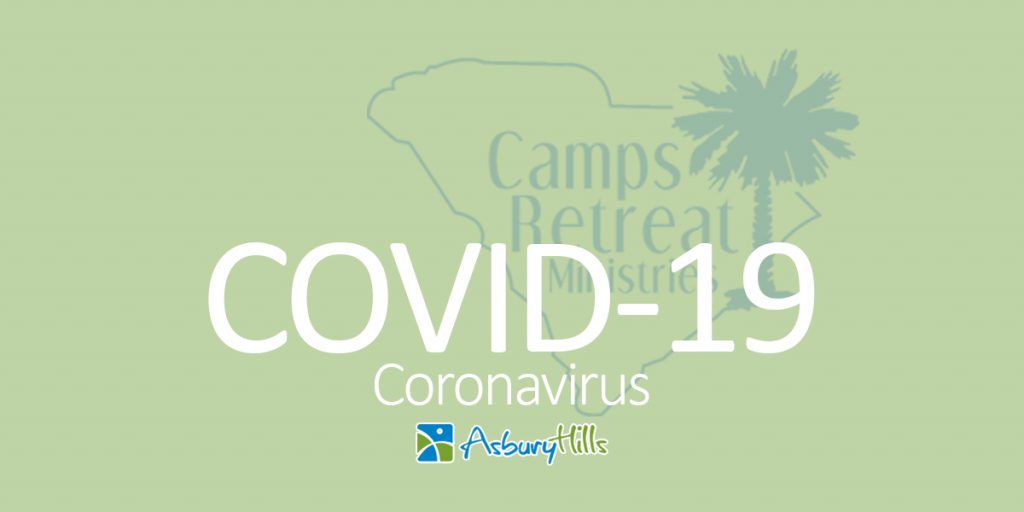 June, 15, 2020

Now introducing Family Adventures at Asbury Hills! Exclusive to Summer 2020, we are offering families the opportunity to book their own Family Adventure at Asbury Hills. Call our office at 864.836.8711 to book your family's next adventure. For $300/night per 4 member family (2 night minimum), you'll get 3 meals per night, a cabin just for family, and the opportunity to try some classic Asbury Hills Activities. Join us this summer and stay safe at camp! More information is available at www.asburyhills.org/family-adventures.

May 22, 2020
In an effort to do no harm, and to preserve the integrity of an outstanding camping experience at Asbury Hills, one that you have come to know over the last 58 years, it is with heavy hearts that we the staff and board make the most difficult decision to suspend camp for the summer of 2020.
We can only imagine your disappointment in this devastating news after everything else we are sure your family has had to endure over the last few months due to COVID-19. We will continue to keep your family in our prayers as you begin to make alternate plans for the summer. We will provide various online resources that you might want to take advantage of to help you and your child cope with the loss of not being able to attend camp this summer.
Please keep us in your prayers as well as we begin to navigate the tough waters ahead. For full details on this, please visit www.asburyhills.org/covid-19.
March 27, 2020
State officials have closed all state parks to visitors through April 30th. In efforts to do our part in slowing the spread of COVID-19, our trails at Asbury Hills will be closed to guests through April 30th. Thank you for your prayers and support as we navigate this time of unknown.
March 20, 2020
Great news! As of right now, we are still accepting registrations for Summer 2020 at Asbury Hills.
March 16, 2020
Dear Camp Family,
Thank you for continuing to support our Asbury Hills and SC Camps & Retreat Ministries family. We truly could not do what we do without you. We know you may have questions and concerns regarding the Coronavirus (COVID-19) and how it might affect your upcoming time at Asbury Hills. We are following the guidelines and advice from the Center for Disease Control (CDC), the American Camp Association (ACA), and local authorities to insure that we are doing everything possible to support the efforts to slow and stop the spread of this illness.
As an accredited camp by the ACA, we are already following various requirements in regards to camper and guest safety. All of these requirements and guidelines can be found on the American Camp Association webpage. Please know that we are taking the necessary steps to keep our staff, our guests, and our campers safe.
As of right now, operations at Asbury Hills are still on going. If you have any concerns for your event, please rest assured that we are taking the necessary steps to ensure a safe environment. Please feel welcomed to contact our Greenville office with any remaining questions or concerns by calling 864.298.0125.
This global situation is changing daily so please know we will continue to update our community as information comes available from the CDC and state agencies. In the mean time, more information on the Coronavirus is available at https://cdc.gov/coronavirus.
Blessings,
Arthur Spriggs
Executive Director
South Carolina Camps & Retreat Ministries